Is the team a dying phenomenon?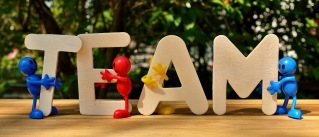 We live in a working world with many and frequent changes. More and more of the work is done in different projects and people involved in those projects come from different parts of the business, both from different functions as well as geo's. It seems that the fixed team that most of us are accustomed will be less common going forward and will instead be replaced with different type of project teams. Amy Edmondson, professor at Harvard Business School, argues that what we traditionally have seen as a team is a dying concept. The new way is to set up teams on temporary basis which are assembled for each project and consists of experts from different parts of the organization and occasionally also externally. When the project is completed, the members of this team are dispelled and will then be transferred to new teams.

By operating this way we can create flexible organizations that can take advantage of individuals' different strengths and can have focus on speed and innovation. Employees' autonomy and development increase, which can contribute to both increased commitment and motivation. In addition, cooperation between different departments improves and this cross-functional collaboration can both enhance the understanding of the business as a whole, for each other as well as provide an even greater focus on the customers.

However, this is not without challenges. This change requires that managers and employees develop their skills in order to manage constant change and be part of continuously newly formed teams. We need to be able to build trust and understanding with new people fast and share knowledge and experience in an effective way.

It is also important to develop managers' leadership skill so that they can lead projects, set clear goals and follow up effectively, and have the skills and tools needed for remote management. Managers need to have the ability to delegate decision-making as much as possible. In terms of knowledge and understanding of how team's functions as well as being able to handle different potential conflicts we need, both employees and managers, to enhance our knowledge and understanding in these areas in order to effectively operate in this type of environment.

Companies also need to develop strategies and have tools to put together effective teams consisting of the right individuals from within the organisation as well as by external people when the skills and expertise needed is not available within the own organisation. This, while we make sure to retain and develop key personnel we already have within our ranks.

So yes, we will continue to have teams, maybe not as we traditionally imagine them, but it will require that we, both managers and employees, will become even better at dealing with what is required to operate in such an environment.